Hey there road trip enthusiasts! During Easter, our Creative team decided to try firsthand what's it like to travel 2000 kilometers with a Tesla. So here's a recap of their electrifying road trip with Beast Rent. Buckle up and let's hear their thoughts:
Tallinn – Pärnu – Riga
Our journey started in the beautiful city of Tallinn, where we hopped onto our buddy, The Joker – a Tesla Model Y Long Range. We were excited to explore the Baltics and experience the charm of their old towns. Our first overnight stop was in the picturesque city of Riga. We strategically chose hotels with EV charging stations, so we could charge our Tesla overnight and be ready for another day of adventure. Before arriving in Riga, we made a pit stop in Estonia's summer capital, Pärnu, to quickly charge our car and have more juice to explore Riga upon arrival. We began our trip with 70% battery and wanted to make sure we had enough power to enjoy our time in Riga to the fullest.
Riga – Kaunas – Vilnius
Next stop – Lithuania! Although Vilnius is the capital and largest city, we also took us to the city of Kaunas. It was a sunny spring day, and our first stop in Lithuania was at the Kaunas Supercharger to top up our car's battery. A few kilometers and we made it to the downtown of Kaunas. Despite our limited time there, we were still able to take in some of the city's charm and character.
After spending a few hours exploring Kaunas, we hit the road again and made our way to Vilnius, a cultural hub of Lithuania. In our opinion, Vilnius is a must-visit destination for anyone traveling to the Baltics! We spent the evening exploring the city, made sure to charge our Tesla at the hotel, and got a good night's rest.
Kaunas, Lithuania with a local Beast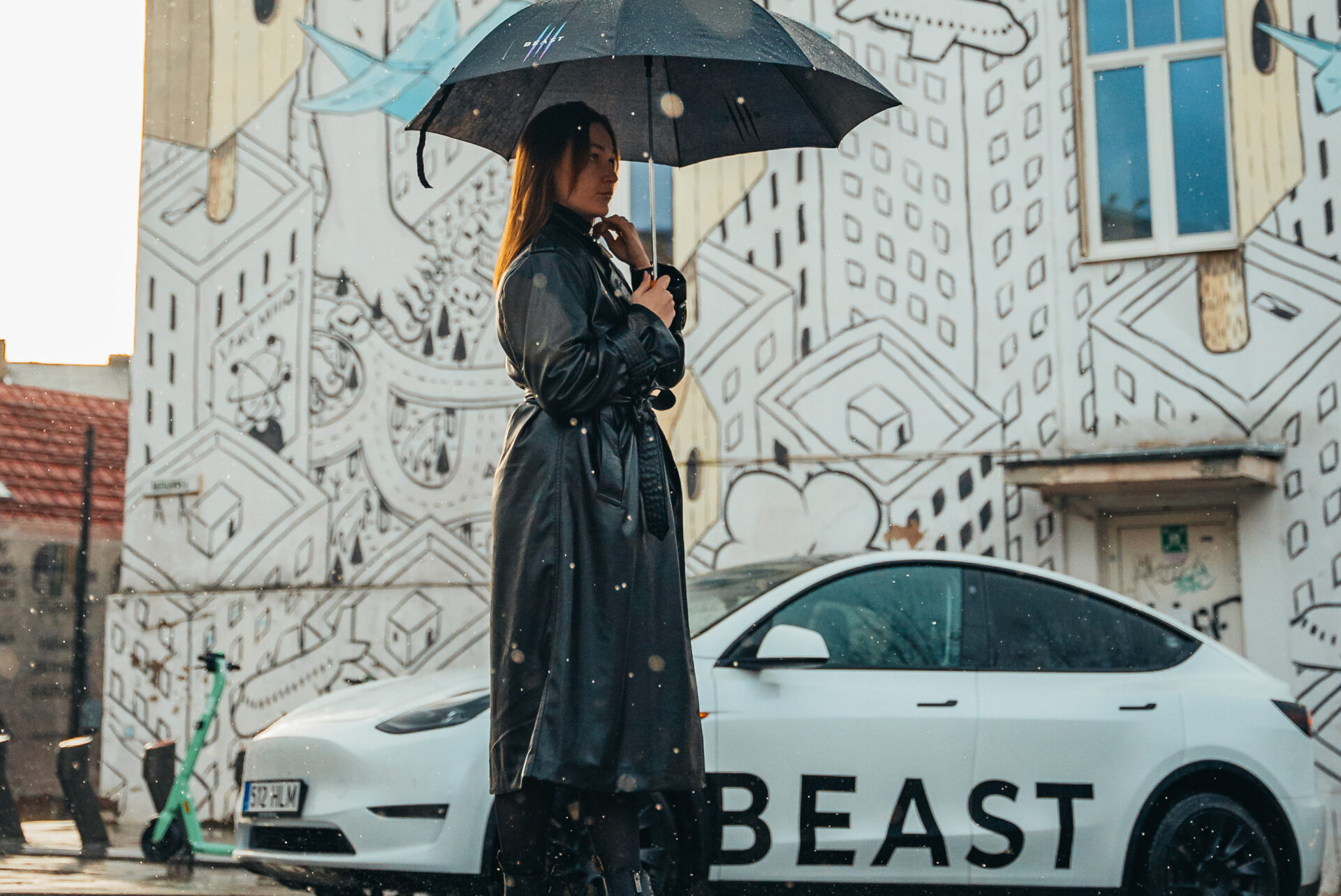 Vilnius, Lithuania with a local Beast
Vilnius – Warsaw
Onward and upward, it was time to head toward Poland. We knew it was going to be a longer drive, so we stocked up on snacks and good music. We made two Tesla Supercharging stops on the way to Warsaw, fueling ourselves with coffee and more snacks. The highways in Poland were a dream to drive on, with smooth and fast roads. We cruised around Warsaw, admiring the glass buildings and soaking in the sunset. After charging up our car overnight, we were ready for the longest drive of the trip – Warsaw to Prague, around 700 kilometers and half a day of driving.
Warsaw, Poland with The Joker
Warsaw – Prague
We started early in the morning, stopping at three Supercharging stations along the way. The journey was long, but the Model Y was perfect for the task, and we made it to Prague in around 9 hours. What a gorgeous city! Upon arrival, we put our road trip buddy to charge and picked a local Beast, a white Model 3 Performance, for a change.
After a day of adventure, it was time to say goodbye to The Joker and leave it in Prague. We chose a faster alternative to get back to Tallinn, but we have to say, our road trip with a Tesla was a truly pleasant experience. The Tesla's (Super)charging infrastructure was impressive, and we encountered no problems. At each charging stop, we had the perfect amount of time to stretch our legs, use the bathroom, and of course, indulge in more snacks.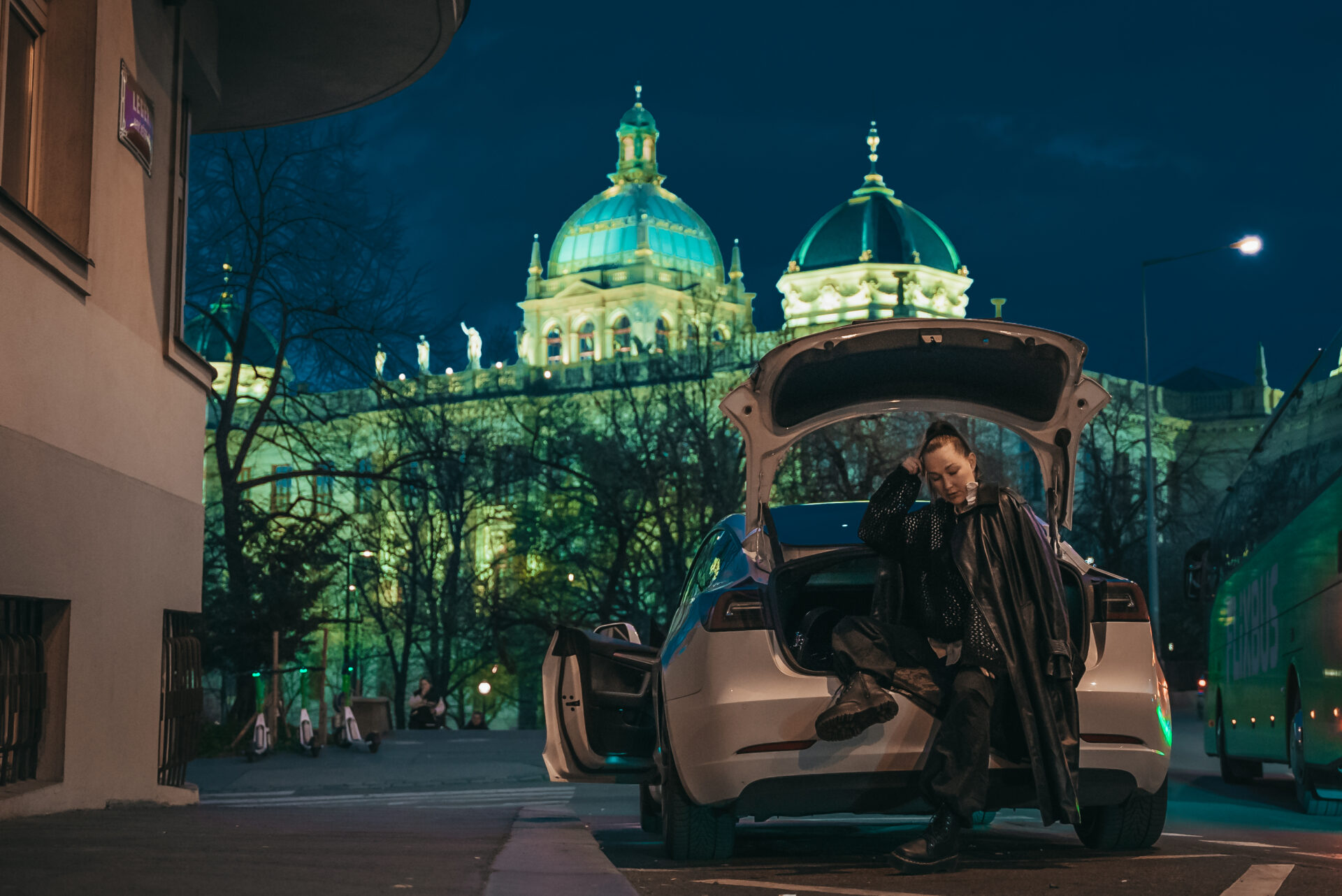 Prague, Czechia with a local Beast
Beast truly is an easy and fun way to explore the Baltics and beyond.
With EV charging stations in strategic locations, pre-bookings, and no cross-border fees, what more do you need?